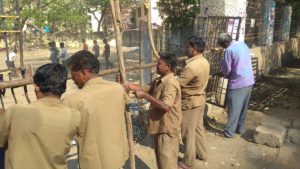 Why is a large, open space owned by Chennai Corporation in R. A. Puram which has not been developed for over a year and then considered for a sports facility now becoming a waste dump?
The mess is getting worse because the civic body has been slow to push plans and some private conservancy workers treating this place as a dump yard.
On March 28 evening, Chennai Corporation workers of ward 173 erected a temporary barricade at the Corporation's open space located off Kamarajar Salai, R.A. Puram.
"A week ago, the pillar that was supporting one side of the gate collapsed after it was hit by a lorry. Because of which one side of the gate was thrown open," said a local civic official.
"Since then some conservancy workers who collect garbage in the tricycles had been dumping the waste in the ground. They were doing so since the truck that they use to collect the garbage in the morning was unavailable. Later, the truck that is used during night shift collected the waste," he says.
Heaps of waste and construction debris was seen at the far ends of this open space, adjoining the E-Seve Centre and Post Office on one side and Corporation's community hall on the other.
A Corporation official of ward 173 says, "The garbage in the ground is cleaned regularly by RamKy conservancy workers. But, even after repeatedly warning them some conservancy workers are continuing to dump the waste here. The residents of Velleswaran Thotam too are throwing their waste over the wall," he says.
Veera Raghavan, assistant engineer, ward 173 told Mylapore Times, "There was a proposal to convert the ground into a volleyball court. The estimate was also prepared 8 months ago. But due to some reasons, the files are not moving. The Land and Estates department of Chennai Corporation has to deal with this issue."
Local youths now treat this place like a playground; many are seen playing cricket in the middle in the evenings.