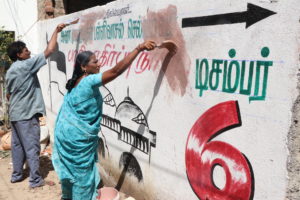 The walls which run on the south side of Greenways Road in R A Puram are stark. All the huge posters of the AIADMK have been removed – to respect the poll conduct rules that came into play on Sunday evening whe the Lok Sabha poll dates were announced.
From one end to the other, the posters, some 10 feet by 6 feet, hailing the CM and his deputy, prime minister Modi and the rest were removed in a quick operation early Monday.
The chief minister and a few other state ministers reside in state-managed bungalows off this road. And the huge posters pasted on the walls of their campuses came in for some sharp comments from a former chief justice of the Madras High Court.
Meanwhile, the walls of Adyar bridge have been 'reserved' by some political parties.