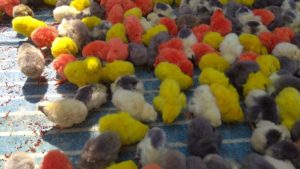 Indigenous breed (natu kozhi) of chicks are now available at Kamarajar Salai, R.A Puram, opposite to gokul flats.
A. Ramesh, a hawker has brought the chicks from Namakkal and sells them here.
He has coloured the chicks to attract the customers. This evening the passersby were attracted by the way these colorful chicks were running around to have food.
Six chicks cost Rs.100. Available from 2.30 p.m. to 6 p.m. on all days at Kamarajar Salai, opposite to gokul flats in R.A.Puram.