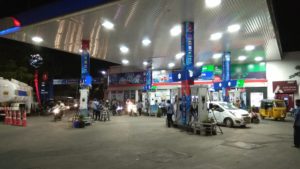 Lans service station, a petrol bunk in Greenways Road, R.A.Puram plays Carnatic instrumental music to reduce the stress levels of motorists coming to fill the fuel.
The owner of the bunk, R.Venugopalan says, "People come here with a lot of stress and tension. This is our small effort to relieve their stress. And since I believe that music can make anyone happy, we have been playing classical music since many years."
The songs of eminent artists like D. K. Pattammal and M.S. Subbulakshmi besides others are played here."Many a time the motorists ask us where to get these recordings," he says.
Being a Carnatic music lover, Venugopalan has been collecting all the songs of his favourite singers.
Though the staff at the bunk find them monotonous, the motorists who stop and care to listen enjoy them.
K.Ganesh from Adyar who was filling fuel in his car says, "I personally enjoy the music played here. Hence I make sure to put petrol here whenever I come this way, or I at least do an air check."
A group of motorists who were waiting for the air check too were seen lip-synching the songs and shaking their heads.
"During this December season too artists who stopped here to fill fuel in their cars came to our office to appreciate and share their happiness," he says.