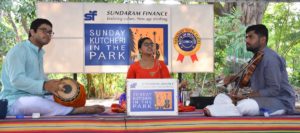 As part of the monthly Sunday Kutcheri at the park organised by Sundaram Finance, 12 year old Manasa Hariprakash, a student of guru Palghat Ramprasad, presented a kutcheri at Nageswara Rao Park, Luz on March 3 morning.
She was accompanied by Thirucherai Karthik on the violin and Sunaada Krishna Amai on the mridangam.
N. Sriraman, senior GM, Sundaram Finance presented the certificates and mementoes to the artistes.
Sundaram Finance conducts auditions to select the artistes. For details send an email to sundaykutcheri@sundaramfinance.in.