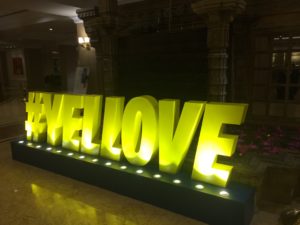 Crowne Plaza hotel on TTK Road is home of Chennai Super Kinds (CSK), the cricket team that plays in the IPL cricket league. And on the eve of the 2019 IPL season the hotel is showing off to guests and visitors who it is hosting.
The lobby flaunts a giant legend – Yellove – which plays on the colour of the CSK's jerseys and promos. And down a pathway, a wall holds up a few sepia tinted photos of some great moments of the cricketers.
There is some buzz down the corridors on who is already staying here and when M. S. Dhoni, CSK's iconic captain will arrive.
The last season, the hotel endured a bad low when CSK could not make the iconic Chepauk stadium its home turf for various reasons and had to shift base; which meant all the yellow-highlighted promos in the hotel had to be taken off.