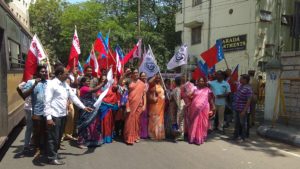 On March 14, at 11.50 a. m. around 30 members belonging to All India Youth Federation(AIYF), All India Student Federation (AISF) and National Federation of Indian Women (NFIW) staged a protest at Sringeri Mutt Road, Mandaveli.
They were demanding justice for the women affected by the Pollachi case.
"We strongly demand that the senior officials of the ruling party should take responsibility and resign their jobs," says R.Thirumalai, General Secretary of AIYF.
E4 Abhiramapuram police had put barricades on both sides off the Mandaveli railway station and motorists were diverted away from the area of the protest.
Few women members even sat down on a dharna.
Later, when the members raised slogans and tried to move out of the barricades, the Abhiramapuram police arrested them in an MTC bus.