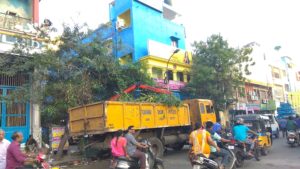 Preparations for the Panguni festival of Sri Kapali Temple are going on intensively.
Pandals are being erected outside the temple in the mada streets.
This morning, Chennai Corporation officials cropped the tree branches that may hinder the ther during its procession.
RamKy workers were clearing garbage in the evening.
Elsewhere some shops and households have erected decorative pandals. Sri Karpagambal Mess has set up a flex banner detailing the festival programme.
However, since traffic is allowed even as preparations are on, there are frequent traffic jams on all the mada streets.