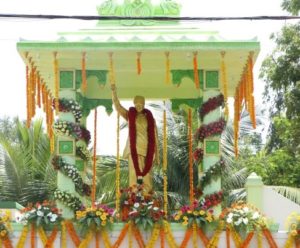 On March 6, prime minister Narendra Modi unveiled a statue of late chief minister of Tamilnadu Dr. M. G. Ramachandran at Dr. MGR Janaki Arts and Science College, R. A. Puram through video conference.
The statue, set inside a mandapam is located alongside the college wall and faces the Durgabai Deshmukh Road, R. A. Puram.
Kumar Rajendran, the chairman of the college, commissioned the statue. He says, "We sent a letter to the prime minister's office about six months ago. A few days before his arrival we were informed that he would be unveiling the statue and we made the necessary arrangements".
He continues, "The statue is about 7.5 feet tall and weighs 1203 kgs. It is made of bronze. The statue, which took about two months to get done, was made by karate instructor Shihan Hussaini. Selvaraj was the stapathi for the mandapam which was constructed around the statue".
The dignitaries present at the event included V. G. Santosam, chairman, VGP Group, S. Ve. Shekher, former MLA of Mylapore, Dr. Latha Rajendran, principal, Dr. MGR School for the Deaf, Ramapuram and Dr. Rajyashree Iraianbu, director placement, Dr. MGR Janaki College.