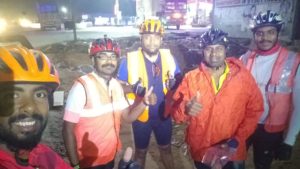 At the Fleche Velocio cycling competition held during the last week of February, the members of the Mylai Midhivandi Kuzhu, a Mandavelipakkam based club, became the first team in India to cycle 363 kms on a fixed gear bike.
Dinesh Prabhu, a senior member who has been associated with the club since its inception in 2014, says, "Fleche Velocio is a team cycling competition organised by Madras Randonneurs, an offshoot of Audax India. A minimum of 360 kms has to be covered within 24 hours.  We had to cycle from Janapachatram in Tamilnadu to Gandikota Fort in Andhra Pradesh. There were a total of nine teams, out of which eight teams rode on different kinds of geared cycles. Ours was the only team that rode on fixed gear cycles. "
Dinesh says they couldn't have done it without the help of Shekar of Sri Karpagambal Cycles at Mandaveli. "He tuned all the cycles to meet the requirement of the riders".
The team members were Ramjee Sivakumar, Joson Eapen, Srikanth Veeraraghavan, Ashwin Raaj and Dinesh Prabu. For details contact Dinesh at 9841737003.