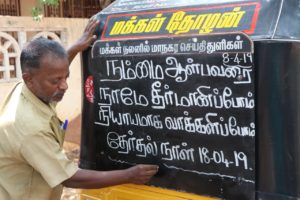 Meet H. Vivekanandan, an Automan in Mylapore, who is known for writing bold and thought-provoking slogans on his auto. He writes these slogans on a small blackboard that is fixed on the backside of his auto, especially for this purpose.
Recently, he wrote a slogan urging people to exercise their votes during the Lok Sabha Elections 2019. The slogan loosely translated to "let's choose our leaders by ourselves, let's vote honestly during the election on April 18, 2019."
He says, "It's our duty to exercise our votes and choose a good leader. And the elected leaders should take responsibility and complete their promises within one year of assuming power."
Every day, he writes such slogans to raise public awareness on various issues. "Sometimes these slogans even motivate and make people think deeply," he says.
On April 8, many people were seen clicking his pictures. Some of them took selfies with him and posted it on social media platforms.
"Everyone who reads my slogans appreciates me. And since I write short, snappy messages in four lines, motorists are able to read them on the go. Many a time, they have even stopped their vehicles to appreciate me. And to my surprise a few times, I have even received calls from Tamil people residing at other states and foreign nations, he says.
"I'm not doing this for becoming popular, I write for the people's good. But, whenever I get appreciation I feel happy," he adds.