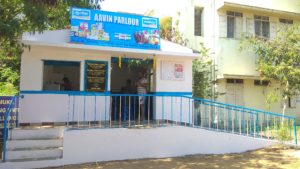 On April 17, an Aavin Parlour opened at Andhra Mahila Sabha, R.A.Puram.
Three adults with special needs from the Durgabhai Deshmukh school are manning the parlor.
"Our special educators and I personally trained them in food handling and hospitality. And one abled staff will always be there to guide them," says Madhumathi Achuthan, Secretary and a Special Educator at the sabha.
The I.P.D. Orthopaedic Centre of Andhra Mahila Sabha has tied up with Aavin to provide rehabilitation for the mentally challenged adults at the Food Packing Training Section of Durgabhai Deshmukh School cum training center.
"We choose Aavin because of all their products are hygienic and most importantly they are packed well. Hence, our students will easily be able to pick and give to the customers," she says.
"Making them self-sufficient in life is our ultimate aim. But, before they start a shop outside we want to make sure they are fully prepared. Hence, we have started this inside our premises," said Assistant Secretary of the sabha.
All Aavin products including milk, ghee, milkshakes, buttermilk, ice-creams will be available here from 8 a.m. to 8 p.m. The parlor is located near the I.P.D Orthopaedic center at 10, Dr. Durgabhai Deshmukh Road, R.A.Puram. Ph:24938311, Extn No.401,400.