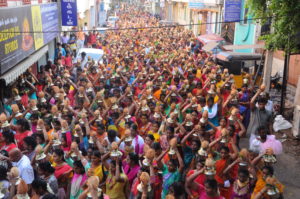 On the occasion of Chitira Pournami, 1008 Paal Kuda Vizha took place at Sri Mundagakanni Amman Kovil, Mylapore.
Devotees carried the 1008 milk pots in a grand procession around the temple covering Bazzar Road, Nattu Subburayar Street, Paripurana Vinayagar Kovil Street.
A variety of musical instruments – Tharai, Thiru Annamalai oodal Vathiyam, flute and more were played during the procession.
"During this festival, we pray for the welfare of the people in the World, "said a priest at the temple.
S. Vijaya a devotee said, "We
prayed to get more rain in the coming year."

The whole temple was decorated with flowers and bouquet to mark the festival.
The abhisekham took place for moolavar at 11.30 a.m. Later, Amman was decorated with a special alangaram and deeparadanai took place.
At 7 p.m., Mundagakanni Amman Utchavar moorthy in mahalakshmi alangaram was taken out in Simha vahanam.
Photo – Mundagakanni Amman Temple