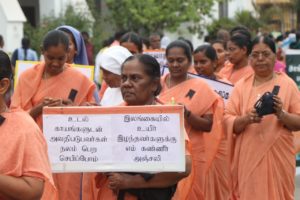 About 700 people took part in a silent procession and prayer held at the San Thome Cathedral on Sunday to mourn the death of people in the bomb blasts in Sri Lanka on Easter Sunday last.
The event which began at about 4.30 p.m. was led by archbishop Rev Dr. George Antonysamy. A number of nuns and priests besides Christians joined the procession held inside the church campus. They lit candles, carried placards and finally took part in the religious adoration prayer service, where those who were killed at many churches on the island were remembered.
This was an initiative of the archbishop and the laity of the diocese.