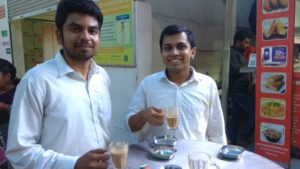 A few months ago, the Madras Coffee House started at St.Isabel's Hospital, Mylapore. And recently the shop has introduced a variety of flavored tea at all its branches.
The available flavors include – cardamom, lemon, green and honey, ginger, special masala, sulaimani, lemon and honey, black.
Among these, the special masala tea has become the favorite among many hospital staff and public.
Amogh Sinha and Athiban Vijay (seen in the photo) who are practicing law at a nearby lawyer's office say, "We are regulars at this shop from the day tea was introduced here. We have the special masala tea with karra thatai (snacks variety) every day. We forgot about coffee after having masala tea here."
"And I like the nattu sakkarai concept too," says Amogh. The shop has started providing the beverages with nattu sakkarai ( traditional sugar) a few weeks ago.
A nurse from the hospital says, "I started loving the coffee, even more, when they introduced them with nattu sakkarai. It tastes like a homemade coffee now."
"Many customers specifically ask for coffee/tea with nattu sakkarai," says S.Chinnathambi, the staff at the shop.
All the tea varieties are priced at Rs.25. The shop is put up near the Hospital's entrance gate off Luz Church Road, Mylapore.