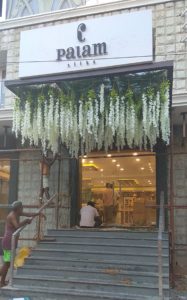 Palam Silks will be opening its new store on Musiri Subramaniam Road, Mylapore on April 17 at 10 a.m.
This evening, the arrangements were on for the inauguration. The entrance was decorated with white artificial flowers. A big led board displaying the countdown time for the store's opening was kept outside the store to attract the passers.
Jeyasree Ravi, the owner of the store was here to oversee the arrangements. She said, "The customers will have a unique shopping experience in this store. All the collections will be hung around the main hall, so they can walk around, touch and feel the sarees before buying them."
"We have also added a section called 'www.palamsilks.com', where the sarees listed on our website will be on display. This way the customers from abroad will be able to buy sarees online and gift them to their parents/friends residing here. The latter can choose their gifts by themselves," she said.