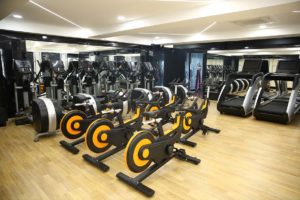 10 Fitness Laboratory, a fitness and dance facility was launched a few weeks ago, above the Hyundai showroom in Luz Church Road, Mylapore.
The place is abuzz with its managers claiming that close to 250 people train here. "Most of them come for general fitness", says the manager.
"We are a professionally trained team of individuals, who love training people according to their preferences. Our team is available at all times not only for workout purposes but also to provide the right guidance," he says.
Spread across 7000 sq ft, this facility has 29 cardio machines, 10 treadmills, 10 spin bikes and two rowing machines.
General fitness, weight loss/gain, sports training and weight training are the services on offer.
There is also a dance laboratory on one side. Group dance classes are taken here for various dance forms – Bollywood dance, Salsa, freestyle, kids dance, Hip-hop and Zumba.
A summer camp is also on for dance classes – from April 15 to May15.
On May 6, summer dance classes were on for kids. 10-year-old Rehan said, "I enjoyed the experience. The trainer was very patient and gave us individual attention."
Open from 5 a.m. to 10 p. m. on all days. Located at 162, Luz Church Road, CIT Colony, Mylapore. Opposite to Kauvery Hospital. Ph: 48600280,7305826209.
Photo courtesy: 10 Fitness Laboratory