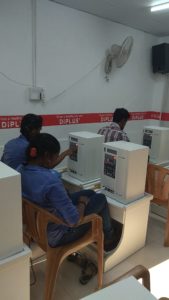 Recently, Di Plus, a Korean-based foot reflexology treatment centre has opened at Ramaswamy Street off TTK Road, Alwarpet.
Since its launch, the centre has been providing free treatment to its patients. 18-foot reflexology machines (Quantum 9000) are placed here.
"The machine creates vibrations at the acupuncture points of the feet, which in turn improves the blood circulation throughout the body," says K. Anu, physiotherapist and manager of the centre.
"The machine also has tools for joint pain relief, nerve strengthening and belly reduction," she says.
"Currently, some 200 people are taking the services we offer and many of them have found relief after the treatment," says Anu.
According to the reports, a 53-year-old woman has observed a 75% reduction in her knee pain after 15 years of enduring it and another person claims he has seen close to 100% change in his sleep pattern.
Alwarpet resident Raji Muthukrishnan says she is happy with the results of the treatment. "Initially, I felt tired, but later I got good sleep. The treatment has been beneficial," she says.
The treatment takes place from 8 a.m. to 4.30 p.m. in half-hour sessions."A session on Di Plus machine is similar to 3 to 4 hours of walking at beach or mountaineering," says Anu.
Free trial sessions are on at this centre now. At 5/1, Ramaswamy Street, near Thanga Vinayagar Koil, Alwarpet. For more details, contact 42808033/9600016975