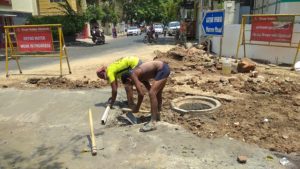 Since this past week, civic workers have been working to relay the underground Metro Water pipeline at the junction of Dr Ranga Road and Warren Road.
"The main water pipe that supplied water to residents of Dr Ranga Road, Abiramapuram and Warren Road was damaged. And since the drainage pipe was above the water pipe, sewage water was mixing with the drinking water," said a Metro Water official of ward 123.
He said that his workers immediately rectified the problem and water supply has been enabled within two days and the pipe has now been relaid.
On May 20, the excavated area was levelled and concrete spread on it.