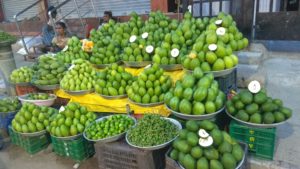 After the vadu mangas season that set in early, Andhra avakkai mangoes are now all over the hawker stalls in  Mylapore's South Mada Street, Mylapore.
The past few days, shoppers have been buying their favourite variety of avakai mangoes here.
On May 15, Vaishnavi, a resident of Mylapore was tasting each variety of avakai mangoes."I'm looking for a particular tangy taste that will make my pickle perfect," said Vaishnavi, as she chose the oval-shaped variety of avakkai mango.
Avakkai mangoes are priced in the range of Rs 120 to 150 for a kilo, at South Mada Street stalls.