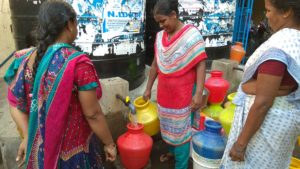 Water scarcity is driving people up the wall. But in Bheemana Mudali Second Street, Alwarpet the local community have organised their own system of sharing water.
Women residents of this street collect water from two water tanks (in 3000 litres Sintex tank) placed at one end of this street off Dr Ranga Road.
"This water serves over 250 families in our street and adjoining streets," said Tulasi, a resident.
Residents say Metro Water officials are providing them lorry water for free, as they are not getting enough water through their Metro Water connection or from the borewell.
"Every alternate day, the tanker lorries fill the tanks here. Later, we divide the water equally among ourselves. Every family gets three pots of water, " says Thilagavathy, a resident.
This community has developed a system to ensure an equal distribution of water.
"One day residents from one end of the street start collecting the water first. And in the next alternate day residents from the opposite end of the street are given first preference so that one family/group does'nt dominate and take more water," she says.
The residents have also chosen a leader in Mohana, to oversee the water distribution.
"I see to it that everyone gets only 3 pots of water. In case of emergencies we allow them to take some extra water," says Mohana.
This evening, when one woman urgently wanted water for a senior member of her family, Mohana requested the residents to allow her to collect one bucket of water. Mohana also helped this woman to carry the bucket till their house.
Now this is one example of community action that needs acknowledgement.