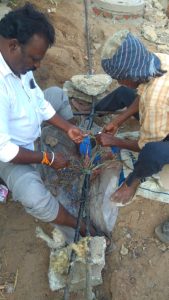 On May 21 evening in R. A. Puram, engineers of BSNL Telephone Exchange were directing workers to repair a damaged telephone cable that runs under the pavement off Greenways Road opposite Raj Palace Sundar Hotel.
Chennai Corporation's contract workers were seen working for pavement extension on this road since past few days.
"They damaged a telephone cable that provided the telephone connections to over 100 subscribers on Greenways Road," said a BSNL engineer who was at this spot.
He said they came to know about the issue after receiving a number of complaints from residents of this road. "The problem will be rectified within an hour," he said.