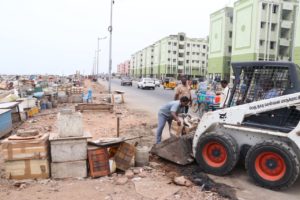 Chennai Corporation team of workers began clearing the Marina Loop Road that starts from the Light House end and runs till Pattinapakkam of the fish hawker stalls this morning.
Scores of men cleared the road and pavement of hawker stalls and junk even as women hawkers and fisherfolks helped in the operations. Trucks were employed to load and then cart away the abandoned boxes, stalls and stuff.
The issue of running a fish market on this roadside has been debated in a court case and the fisherfolk have insisted that this being their 'poorviga' area where they have fished and sold fish for generations, they must be allowed to continue operating here.
However, the civic body has promised to build a fish market but the plan has been in the freezer. Fisher groups have demanded that if markets are built then there must be one for each kuppam located in San Thome.
On Monday, engineers of Chennai Corporation said that they marked a hawking zone in the sands off the pavement and asked the hawkers to do business only from that side. Many hawkers seem to have agreed and they began moving their belongings. Fish sales was at a low ( there is now a ban on fishing in the seas and seafood supply is low).