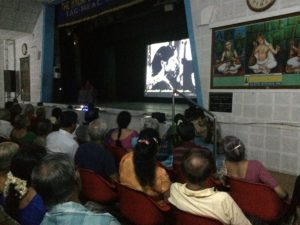 900 seats – all taken. Another fifty standing in the aisles and some 50 more who couldn't find a seat,hanging around and going out.
This was possibly one of Mylapore's biggest sold-out shows at Mylapore Fine Arts Club. And it was for a programme hosted by Humour Club International and actor-anchor Revathi Sankaran. The theme was ' Karuppu Vellaiyil Kalakkiya Kathanayakigal' and it was all about the Thamizh screen heroines of a past era who shone bright. And holding up that era and those actresses was Revathi.
In her inimitable style, Revathi set out to elaborate on the techniques of film shoots and the highs and lows of the technicians and the actors in the early days of the silent / black and white film era that followed the era of theatre.
"I am sharing these details so that you also get to appreciate the lighting, shots and actions of the artistes when you see the film clips," Revathi told the packed hall where fans had to be switched on because the air-conditinong for th 4 p.m. show just wasnt enough to cool down 1000-plus people.
Screening clips that featured songs from films that starred actors like Jayalalithaa and M S Subbulakshmi, Saroja Devi and Bhanumathi, Sowcar Janaki and Padmini, Revathi prefanced each slip with her own anecdotes on the women stars.
The MFAC sabha space was decorated like a theatre of the 60s – flags, posters of old films, men dressed like ticket sellers and goli soda for the thirsty.
This was one big hit show of recent times in Mylapore.
This show was the second part of the 'Tent Kottai' series.
Kannan Balakrishnan of Humour Club says that his team organises regular programmes but wants people to become members to sustain these events. Call 9841532212