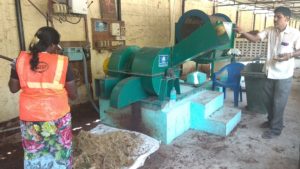 Since the past few weeks, ward 173 of Chennai Corporation is operating a machine which grinds tender coconut waste.
The machine is located at the far end of MRC Nagar Main Road, inside Chennai Corporation's composting plant at MRC Nagar, R. A. Puram.
Now, the local tender coconut sellers, residents and hoteliers, can use their own vehicles to drop their tender coconut waste here."We are also spreading this information through our animators, conservancy inspectors and RamKy staff," says M. Paul Thangadurai, zonal officer (zone 13) of Chennai Corporation.
At present, 10 RamKy conservancy workers are managing the grinding process."Every day, we run the machine from 10 a.m. to 2 p.m. and generate around 1000 kilos of grind," says B. Praveen, a RamKy supervisor.
"We first leave the used coconuts for drying. After grinding, we pile the grind at separate storage areas inside the composting plant and further dry the stuff," says A. Rajeshwari, a conservancy worker.
On May 22, heaps of used tender coconuts were seen outside the composting plant and tender coconut sellers from Guindy were dropping their waste here.
But the civic body is yet to get suitable buyers for the produce. "We are looking for people who could buy the produce in bulk," says Paul Thangadurai.
"Since the grind can act as a water retainer or composting agent in coconut and poultry farms we are also holding talks with farmers," he adds.