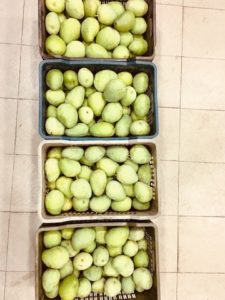 Organically-grown mangoes from a well known farmer of Arambakkam near Tada in Andhra Pradesh on Tamil Nadu border are now on sale in a place off Dr. Radhakrishnan Salai, Mylapore.
Suresh Ranka who has arranged for sourcing and sale says that "the mangoes are grown without using fertilizers or chemicals but by ancient methods of using cow manure and disinfectant like haldi (manjal) to prevent pests.  Nets are used to stop bats from eating the fruits."
The retail sale is made at the office of  Judge Jambulingam Road Residents Association located at: M/s. Sugan Consultants, Svastika,  No:9, Judge Jambulingam Road,  Mylapore.
Three varieties of mangoes are available now. Banganapally mangoes – Rs.150/- per kg. Javaadh mangoes – Rs.150/- per kg. Himampasand mangoes – Rs.250/- per kg
Contact Suresh Ranka 
at 9444357575.