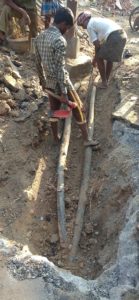 On May 27 evening, officials of TANGEDCO from Foreshore Estate sub-station were directing the workers to check the fault of a underground cable at P.S. Sivaswamy Salai, off Shahana musical shop in Mylapore.
"The civic workers who recently worked here would have damaged the High Tension cable (330 kV) which supplied power to around 40,000 households in Foreshore Estate, Santhome and Mylapore," said a TANGEDCO official from Foreshore Estate sub-station.
The officials say they identified the issue through a machine that detects faults in cables."So, we immediately provided the electricity through R.A. Puram sub-station. And power was not cut anywhere," he said.
Around 10 officials and workers were seen working till 7.00 p.m. to find the exact location of the fault."We will rectify the problem tonight," he said.