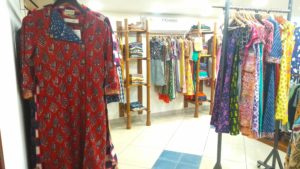 Recently, Butyfulme a Bengaluru based clothing store has opened at Luz Church Road on the ground floor of Kanchi Weaves showroom in Mylapore. The store offers Indo -Western styled clothes for men and women.
Handloom kurtis, dresses, short tops, bottoms, saree, churidar materials and men's shirts are available in a variety of materials including cotton, Ajrak, Ikat and Kalamkari.
Price of kurtis starts at Rs.800.
Two friends, Ramya Padmanabhan and Srinath Parthasarathy are the brains behind this business – first started in Bengaluru in September 2018. "We realised that a huge number of traditional weavers of our country are forced to quit their jobs due to lack of opportunity. Hence we opened the store with an agenda to assist the Indian handwoven and hand printing industry," says Srinath Parthasarathy, the co-owner of the store.
The duo has tied up with NGOs to source the clothes and fabrics. "These NGOs work with traditional weavers of Jaipur, Orissa, Gujarat and Andhra Pradesh and supply us the dresses," says Srinath, who used to be in the IT sector.
"30% to 40 % of the dyes used in our clothes are natural," he says. "We also sell handmade soaps, body wash, incense sticks and candles sourced from Sri Aurobindo Ashram in Pondicherry."
For washing the clothes, the store offers a natural washing solution made of soap nuts (ritha) and shikakai.
Vimala Parthasarathy from Besant Nagar who was shopping here said, "The clothes are very comfortable. And the staff are warm and friendly."
The store will be open on all days from 10.30 a. m. to 8.30 p.m. at 94, Luz Church Road, Alwarpet. Call Srinath at 9952990154.