EATING OUT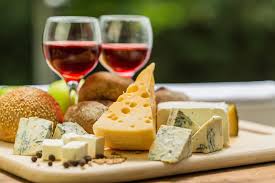 WINE AND CHEESE
Choose from a variety of red white and rose wines and enjoy a platter of assorted cheese with it at the 'Wine and cheese yes please' event at The Colony, Raintree Hotel, Alwarpet. On June 30.
FROM THE SOUTH
Taste the food of Kanyakumari, Nagarkovil, Marthandam and Trivandrum at the Nanjil Nadu food festival. Menu includes ulunthuchoru, parotas and chakha bonda. At Malgudi Restaurant, Hotel Savera, Dr. R. K. Salai, Mylapore. For lunch or dinner. Till June 30. For reservations call 9710947361.
WORKSHOPS
ART WITH ALCHOHOL
Aarthi Goyal will hold a workshop on alcohol ink abstract art. Participants will learn to work with alcohol inks (seen in the picture). On June 29. Hosted by Hindustan Trading Company. At the Madras Art Store, Alwarpet. 10 a.m. Contact 9790995771.
FOR KIDS
Listen to stories about Pogo the pig, Jijo the puppy, Mojo the chipmunk and Ostroo the ostrich at the story telling session by Janaki Sabesh. At Curio Play, Alwarpet. On June 30. 11 to 12 p.m. Fees: Rs 200 per head. Ph: 9790761906.
GONDA ART
Sundaram Finance will organise a Gonda art workshop for children aged 8 – 12 years on June 29. At Nageshwara Rao Park, Mylapore. 3-5 p.m. Registration is free. For details contact 28881565.
MISCELLANEOUS
READING SESSION

Masquerade presents a performative reading 'The view from within' of Chennai based international author Mohan Narayanan's plays (seen in the picture). Audience can interact with the author. On June 30. At Curio Play, Alwarpet. 5.15 p.m. Open to all.
CELEBRATING SOCIAL MEDIA
Social Media Marketers across the country will celebrate Social Media Day. There will be a group discussion on important social media topics and trends and a networking session. Social media success stories can be shared. Registration fee is Rs.199. On June 30. At Curio play, Alwarpet. 1:30 p.m.
FOR YOUNG ADULTS
Indian Aces will hold an event on Chennai gender, sexuality and asexuality. It is suitable for audience above the age of 16. June 30. At Wandering Artist, R. A. Puram. 2 p.m.
A SHORT FILM
'Kaal Nootrandu Kadhal', a short film in Tamil will be screened at Russian Cultural Centre, Kasturi Rangan Road, Alwarpet. Two shows, at 6.15 p.m. and 7 p.m. On July 1, Open to all.
COMEDY SHOW
'Indha Ooru Enna Vilai', Thamizh stand up comedy show which chronicles the life of two friends Sriram and Chokku. On June 30. At Counter Culture Comedy Club, Sriram Nagar, Alwarpet. 6 p.m.
SHOPPING
SALES BY NGO
Moowes an NGO for women enterpreneurs is conducting an exhibition cum sale at C. P. Art Centre, Alwarpet till July 1. Exhibits include textiles, jewellery,sweets and savouries, pickles and more. 10.30 a.m. to 8 p.m.