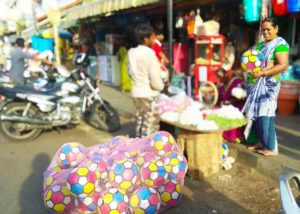 On June 13 evening these colorful balls (shown in picture) with football pattern were seen all over the market in South Mada Street and Venkatesa Agraharam Road, Mylapore.
Some 10 seasonal vendors from Rajasthan were selling them at different points on these roads. One ball was priced at Rs. 30. And some hawkers were selling for less.
Women and seniors were excited to see this new variety of ball in the market. And most of them bought a couple of these balls for their children /grandchildren.
While some people complained about their high price others just bought them to help these vendors.
"This is the first time we have come here to sell. This year we sold at Tanjavur and Nagapatinam. And most of our balls sold out there," says Gopal, a vendor from Rajasthan.
"We will leave to Rajasthan once our stock gets sold", he adds.