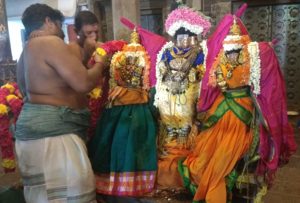 On June 14, a large number of devotees gathered at Sri Kapaleeshwarar Temple as two auspicious occasions – pradosham and vaikasi visakam, the birth star of Sri Singaravelar fell on this day.
On one side the rituals for pradosham were on and on the other side, at navarathri mandapam the deities (utsava moorthy) of Sri Singaravelar and his consorts Valli and Devanai were being readied for a procession that was to take place after 8 p. m.
After the pradosham rituals devotees rushed to Sri Singaravelar Sannidhi to look at the abhisekham being performed for Lord Murugar.
After the abhisekham, Sri Singaravelar (moolavar moorthy) was decorated with  sandana kaapu (sandalwood paste).
"Sandana kaapu alangaram is very special as this alangaram is done only once in a year on this occasion," said a devotee.