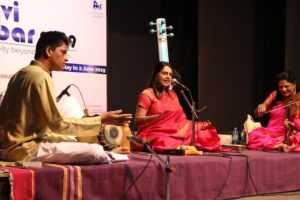 MUSIC.
CARNATIC MUSIC FEST
Carnatica's annual Pallavi Durbar music fest is on at two venues in Mylapore. The fest focuses on the 'pallavi' in Carnatic music. While contests are being held at Bhavans, Mylapore – on June 1 and 2, the concerts are at MFAC sabha. On June 1, evening concerts are by Mahathi, Gayatri Venkataraghavan and Pantula Rama. On June 2, on stage are Akkarai Sisters and Saketharaman.
Pallavi-based music contests are on June 1 and 2 at Bhavans, E. Mada Street, Mylapore. Call 9444018269
YOUNG ARTISTES ON STAGE
Bharatiya Vidya  Bhavan in association with Aanmajyothi ( cultural wing of  Saraswathi Viyalaya ) presents  'Rising  Stars', a  series of Carnatic music concerts featuring  young talented artistes. The event is at Bharatiya Vidya Bhavan, Mylapore from June 1 to 6, 5 pm daily.
WORKSHOPS
ART
 Chennai Weekend Artists will hold an art workshop comprising of art theory and practice. It will be held  at Dream Zone, 5th floor, CADD Centre, Dr. Radhakrishnan Road, Mylapore, on June 2, 9.30 a.m. Participants will share workshop expenses. Registration is a must. Call 9840082098. Open to all.
FUN WITH CLAY
 Children can learn to make items with clay at this Clay Modelling Fridge Magnet workshop. It  is for those over 7 years. On June 1 from  12 noon to 2 p.m. Fees is Rs. 600. At Kalaa Manjari, 6/12, First Street, Venus Colony, Alwarpet. Call 9840225570 to register.
PAINTING LESSONS FOR KIDS
 Starry Night is an acrylic painting workshop for kids  above 7 years  – to be held at Kalaa Manjari, 6/12, First Street, Venus Colony, Alwarpet. The workshop is on June 1 from 10 a.m. to  12 p.m. Fees is Rs. 750. Call 9840225570 to  register.
CALLIGRAPHY 
Interested in learning  calligraphy? Metallic calligraphy workshop meant for beginners will be conducted by Mridula Ganesan on June 1.  At the Madras Art Store , Mookambika Complex, C. P. Ramaswamy Road. 1.30 – 5 p.m. Basic strokes of calligraphy and more advanced techniques will be taught.
TERRARIUM  GARDENING
Archana Krishnamurthy will conduct a workshop on  the  art of  Terrarium  Gardening. It will be held at Curio Play, Anandha Road, Alwarpet, on June 1 and  2 at 10 a. m.  All materials will be provided. Contact 9840917714. Paid event.
THEATRE
TICKLE YOURSELF
Counter Culture Comedy Club  will hold  a weekend comedy show featuring  Abhish Mathew, Uruj, Asfaq and Saurav Mehta on  June 1 and  2, 8 p.m.  The show is at 16, 1st Cross Street Co-operative Colony, Sri Ram Nagar, Alwarpet. Ticketed event. Call 82208 32419.
STAND-UP COMEDY
Sumit Anand  will present a  comedy show 'Chennai: Nothing about Godzilla' on June 7 at 8 p.m. At 16, 1st Cross Street Co-operative Colony, Sri Ram Nagar, Alwarpet. Ticketed event
SOLO STAND UP SHOW
Evam presents 'Pure Veg Jokes',  a solo stand-up show by Saikiran  on  June 2. It is a clean comedy in English, says a promo line. At  Bay 146, Savera Hotel, Mylapore. Ticketed event. 7. 30 pm.
MISCELLANEOUS EVENTS
CARNIVAL IN LUZ
Midtown Flea market  is holding Midtown Carnival an event at Luz House, Mylapore.  There will be stuff to buy, games to play, music, food and soft entertainment. It is on  June 1, noon onwards. For details call 9790834612.
SHARE YOUR TRAVEL TALES
Share memorable  moments from your summer travels  at 'Travel Stories Unleashed',  a workshop for adults. At Curio Play Anandha Road, Alwarpet, on  June 2 from 3 pm to 5 pm.