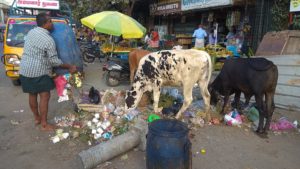 Hawkers on South Mada Street continue to dump vegetable waste and garbage at the corner opposite Sri Velleswarar Temple.
"Usually, the Corporation's bins used to be there at this corner. But today due to some reason the bin has not been kept here since morning," says a shopkeeper who runs a tea shop nearby.
Even though there were empty bins a few yards away the hawkers were seen dumping their waste on the ground.
"I can't walk to the other dustbin," said a hawker as he dumped waste from one of his bins.
Food waste, paper/plastic waste is seen around the bin and cattle roaming on this street were seen feeding on the waste.