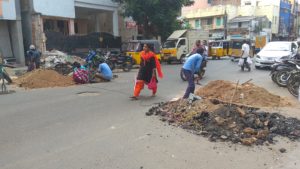 This evening, Metro Water workers of ward 125 were inserting a drainage pipe at East Mada Street, Mylapore.
The road was dug from both sides leaving a narrow space in the middle for the vehicles to pass through.
The workers said they were inserting a new drainage pipe for an apartment that has been recently constructed on this road, near Sri Kapali Temple 's Ther shed.
It created a chaos for motorists and pedestrians as both had to use the same narrow space to pass. It created more congestion as vehicles were coming from both sides even though it was a one way.
"We started this work in the morning. But it got extended till evening. We will try to finish it soon," said Metro Water AE of ward 125.