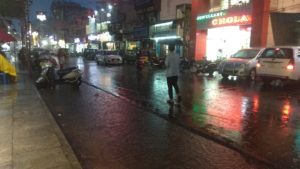 On June 26 evening, Mylapore witnessed a heavy downpour with thunderstorms after months of scorching heat. The sudden rain came as a relief to many Mylaporeans who were suffering from water scarcity and severe heat.
Youngsters, who were taking shelter below the roof of the shops at North Mada Street, Mylapore instantly took pictures and shared them on social media platforms.
People who were going back to their homes after their work were stuck, but they were joyful that rain had finally come.
While everyone from children to seniors seemed very happy, the roadside vendors were upset as the rain had destroyed their business, which usually happens in the evening. And so the hawkers at South Mada Street covered their shops with tarpaulin sheets and left for their homes early.
Just after an hour of rain, the sides of the streets and low lying areas at Mada Streets around Sri Kapali Temple, R.K.Mutt Road, D.G.S. Dhinakaran Salai were clogged with water. Because of this, the traffic moved very slowly till 7.20 p.m.