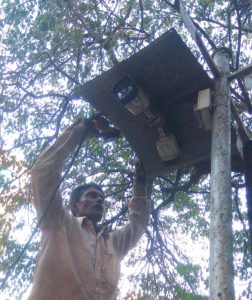 This monsoon, to prevent the malfunctioning of CCTV cameras by seepage of rainwater, the Mylapore Traffic police have arranged for protecting it.
This evening, Galvanised Iron (GI) sheets were fixed over roadside CCTV cameras at San Thome High Road and Kutchery Road.
These cameras are installed and monitored by the Mylapore Traffic police.
A traffic police, who was at the site said the sheets were placed at places where the cameras do not have a cover.
"In total, we fixed them at 14 places, which include areas near San Thome, and MRC Nagar," he said.