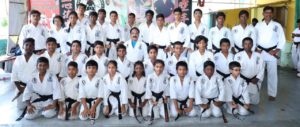 For the 34 students who received their black belts at an event conducted by All India Boufuuukai Isshinryu Karate School at Mandaveli, it was a day they couldn't forget. After more than four years of intensive training, their labour had finally borne fruit.
Shihan A. R. Sundar, who has been running the school for more than two decades says, "Every year, in the summer, we conduct a black belt training camp for students.
"This year, the camp started during the second week of April with jogging and fitness sessions. For one week in May, the students then undergo rigorous training and testing on katas and fighting techniques. The belts and certificates are handed over to them after that".
For details contact Sundar master at 9840018628.