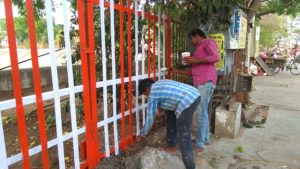 Mylapore based NGOs – Akshaya Trust, Viswajayam foundation, Karam Korpom, and Mylapore Residents Welfare Association (MRWA) have joined together to clean the mada streets around Sri Kapaleeswarar Temple, Mylapore.
Karam Korpom has started painting the fence around the temple tank with red and white colours. South Mada Street pavement is also being cleaned. Depending on the success of this model, the team plans to replicate the work in the other mada streets.
G. Gopalan, founder of Akshaya Trust says, "From a long time, we wanted to clean the streets surrounding the temple and create more space for pedestrians. The pavements are dirty with food waste and cow dung. Also, people urinate around the corners, near the junction boxes and transformers."
His team had a chat with the officials of Chennai Corporation and Sri Kapali Temple's executive officer D.Kaveri and started the cleaning work on a trial basis on South Mada Street. "We have appointed a woman worker to clean the pavement of South Mada Street," he says.
The project is funded by Akshaya Trust and Viswajayam foundation. Karam Korpom has been roped in to paint the fence around the temple tank."Viswanathan, the secretary of Mylapore Residents Welfare Association is also actively helping us," he says.
V. Uma Maheshwari, one of the organisers of Karam Korpom says, "When we are in this area we ask people not to urinate on the pavement and tell the hawkers to keep the pavements clean."
Chennai Corporation turns a blind eye to the owners of dozens of cattle from local cow sheds which roam the mada streets. Nor are hawkers regulated though periodic drives are held to clear hawkers who encroach on the street.