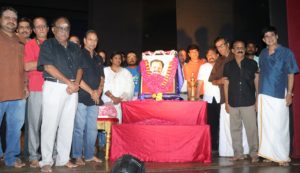 A host of people – theatre and film artistes, sabha executives and well-wishers – took turns to pay tribute to Crazy Mohan, theatre and film artiste who passed away recently at a meeting held at Narada Gana Sabha on June 24 evening.
Anchored by artiste Y. G. Mahendra who peppered his introduction of the speakers with his own anecdotes of life and times spent with Mohan, many speakers said it was an occasion to celebrate Mohan than mourn him.
If film director K. S. Ravikumar recalled instances that lit up his working on film projects and stressed that Mohan was above all, a human being, theatreperson Madhuvanthi said she was inspired by Mohan to launch and sustain a life in theatre and that the spirit of Crazy Creations, Mohan's drama troupe to continue staging plays was great news for all.
Among others who spoke at this meeting were Carnatic vocalist Gayatri Girish and businessperson Nalli Kuppuswamy.
A large number of people attended the meeting. The Crazy Creations team was present.