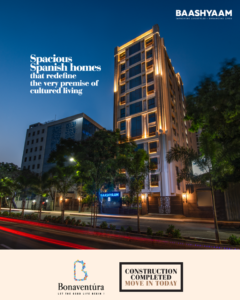 Two newly built luxury apartments, one in R. A. Puram and the other in Alwarpet are up for sale now.
Both are residential projects of Baashyaam Constructions based in T. Nagar.
The first called Bonaventura rises up into the skies at the east end of Canal Bank Road, just off the Hindustan Levers office. Promoted as apartments with Mediterranean design and Spanish feel, the apartments ( 22 in number) block faces the Adyar Poonga on one side and some balconies present the city's coastline.
The apartments are now priced at Rs.6 crores.
Baashyaam's second project is on Seshadri Road – Kasturi Ranga Road; it has come up in a large plot which once held heritage buildings. The Sadhr Adalat or court of appeal under the Nawabs of the Carnatic existed here, being a busy place till the early 19th century.
The property was later bought by Basheer Ahmed Sayeed, judge of the Madras High Court.
It was pulled own over a year ago and the apartments came up quickly. The living space is high-end with art-filled common spaces, elevated landscaped greenery, swimming pool and modern gym.
Photo used here is of the R. A. Puram property and sourced from the promoter's social media page.