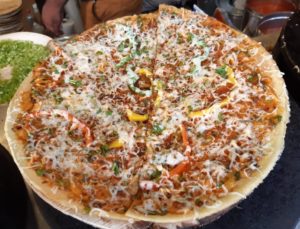 Do-shh-ahh, a food joint that claims its menu offers 99 varieties of dosas has opened in R. A. Puram, 3rd Cross Street opposite the Aavin milk booth.
Riding on the idea of introducing popular dosa varieties of Bengaluru and Mumbai, city-based couple Balamurali and Kirthiga have started this food joint chain at Chennai.
The restaurant in R. A Puram is their 6th outlet in the city. It has replaced the Tosai food joint that used to be here: it shares its space with Vibe, a cool drinks and snacks shop that started recently.
So what's in this name 'Do-shh-ahh'?
Balamurali says, "Do (in Hindi) refers to two sides of dosa, Shh is the sound when the dosa is spread on the tawa and Ahh is the expression which we want the customers to feel after having our dosas."
Adds Kirthiga, "It all started when we visited Bengaluru and tried a new dosa variety there. From then on we would go to that place every weekend to study the dosas."
The duo dug deep into dosas in Bengaluru and Mumbai, got chefs from there to plan the menu and launched the business in this city.
Balamurali calls dosas 'Indian pizzas'. Why?
"The dosas are prepared with a thin layer of batter (made with different proportions of lentils and rice). Later, over the base chutney, a set of spices and vegetables are added, then butter, cheese and sauces are spread appropriately," he says.
The most popular dosas here are Golmaal dosa (with a short cylindrical dosa stuffed with masalas kept at the center of the dosa), Sarvesh (with exotic vegetables, named after their son), 99th Stop, Bengaluru's cheese dosa and Mumbai's special American Chopsuey.
This food joint also offers dosas prepared without onion and garlic for Jain customers.
Prices of the dosas are in the range of Rs 40 to Rs 160. Open from 5.30 p.m. to 11 p.m. At the Chennai Corporation Complex, 3rd Cross Street, R. A. Puram. Ph: 9884715533,9884560070.
Photo courtesy: Do-Shh-Ahh.