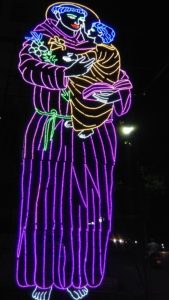 The 99 th anniversary celebration of Punitha Anthoniyar Aalayam, a church at Selvarajapuram of Dooming Kuppam, is on now. This church formed in 1920 is devoted to Saint Antony.
The festival started on July 9 and will be on till July 21. Huge images of Saint Antony and Mother Mary made of light are erected at Dooming Street off San Thome High Road, Mylapore.
A grand car procession is set to take place this weekend.
J.Poul Raj, a resident of Dooming Kuppam says, "Nine cars will be beautifully decorated for the procession. The procession will have deities of Mother Mary, Anthoniyar, Susaiappar, besides other saints. Prayers and cultural activities will also take place."
This being an important festival of this area, poul says, more than 500 people from various parts of Dooming Kuppam – Irudayapuram, Selvarajapuram, and Anthoniyarpuram will participate in it. "Our family members from other cities will also join tomorrow for the car procession," he says.