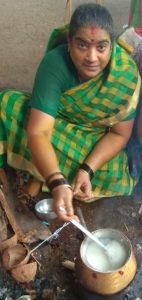 As the Tamil month of Aadi has begun, festivities are on at all Amman temples in the Mylapore neighborhood.
This evening, Mundagakanni Amman temple was beautifully decorated with flower pandals and banana trees. Women devotees, wearing traditional sarees did pongal in front of the temple along both sides of Mundagakanni Amman Kovil Street. Barricades were placed at entry points of this road to restrict the traffic while the Pongal was being made.
Says a staff of the temple, "All the Fridays falling in the month of Aadi are auspicious, and since its, the first Friday of this month, a large number of devotees have been visiting the temple from the morning. Whole day pal (milk) abhishekam took place for Amman. And in the evening, she will be decorated with special manjal kaapu alangaram."
"We also make koozh (porridge made with millets) and offer it to Amman. Throughout the month, people come and offer pongal from the early morning," she says.
Easwari, a resident of R.K.Mutt Road, who was preparing sakkarai pongal outside the temple says," I have been offering pongal for 27 years. We have deep faith in Amman, so we pray and offer pongal here before starting any function at our house. All our wishes have also come true always."
Devotees also did pal abhishekam for the naga devatas inside the temple and lighted Maa Villaku (lamp made of rice flour). Families from various parts of the city gathered to get a darshan of Mundagakanni Amman on the auspicious day of Aadi Velli.