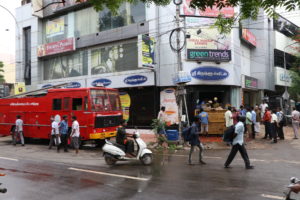 Fire Services have put out a fire which broke out at the Sri Krishna Sweets shop on Venkatesa Agraharam Street in Mylapore on Monday morning.
The fire engines were quick to report at the spot and douse the fire; massive clouds of smoke were seen emanating from this street corner shop. Since it was peak-hour traffic time for school students, vehicles had to negotiate through the operation.
Firemen said that a electrical short circuit may be the cause of the fire.