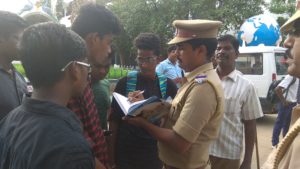 On July 29, a group of students who had passed out from San Thome High School staged a protest in front of the school's gate at San Thome High Road, Mylapore.
A former student said that when they were in school they did not get laptops that the Tamil Nadu government gives to the students. But now, the current batch of class 11 and 12 students have received it, he said.
The police officers from the Mylapore Police Station arrived and convinced the students to leave the scene.
When we asked a reaction from the principal of the school, he did not give a comment.