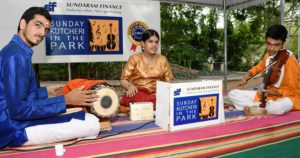 As part of the 'Mikeless' Kutcheri in the Park organised on the first Sunday of every month by
Sundaram Finance, 11-year old R. S. Srishti (sishya of guru Meenakshi Srinivasan) presented a one hour 'mikeless' kutcheri last Sunday morning at Nageswara Rao Park, Luz.
She was accompanied on the violin by Chitoor Barghav Vignesh and on the mridangam by Vishvesh.
Srishti presented compositions that included Vande Nee Shamagam (Hamsadwani / Adi), Sri Maha Ganapathim  (Aatana/ Adi), Bhavayami (Ragamalika/Roopakam), Enai Nee Maravadhe (Amirthavarshini/Adi) and Swagatham Krishna (Mohanam/Thisra Nadai).
Audio systems are not used in this concert series.
R. Harikrishnan, GM, Sundaram Finance presented certificates and mementos to the artistes.
Launched in February 2006, the idea of the Sunday Kutcheri in the Park is to provide opportunities to young budding talent aged below 15 years to present in front of an informal park audience. Over 1300 children have been part of the Kutcheri in the Park series. Sundaram Finance conducts audition to select the artistes to present the Mikeless Kutcheri. For details, email: sundaykutcheri@sundaramfinance.in