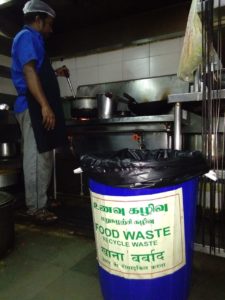 Recently, as a part of the Zero Waste Chennai project, Chennai Corporation officials urged the hotels, malls, and residents of apartment complexes to practice source segregation.
Following this, Sangeetha Restaurant at R.A.Puram has started segregating their waste.
They now have well labeled bins in their kitchen for collecting bio-degradable waste (food and vegetable waste) and plastic waste separately.
Raj Kumar, manager of the restaurant says, "We make sure that no plastic waste goes inside the bin kept for collecting bio-degradable waste. All our branches are also following this process," he says.
They have also kept bins outside their restaurant for collecting plastic waste."The passersby can also put their plastic waste inside these bins," he says.
Raj Kumar says that every morning they handover the segregated waste to the RamKy conservancy workers who  collect them separately on a tricycle.