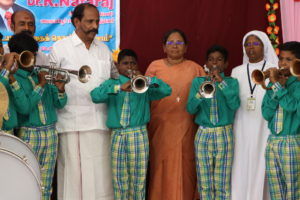 The music band group of students at St. Lazarus Middle School, R. A. Puram has received a brand new set of music instruments and uniforms. This was made possible by a donation made by Mylapore MLA, R. Nataraj: he spent about Rs.3.6 lakhs for this purpose.
The school which is located off Madha Church Road has been raising a band every year but it lacks a proper band master who can train the group. If you have connections with musicians who can help, you may contact the school Headmistress.
This school will celebrate 125 years of its existence in August.