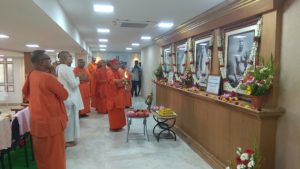 On the occassion of guru poornima, Sri Ramakrishna Math off R.K.Mutt Road opened its Ramakrishnananda hall after renovation. The renovation was going on at this hall since the past few weeks. During this time, the spiritual discourses that usually take place at this hall were held at the old temple, located inside the Math campus.
Srimat Swami Gautamananda Ji Maharaj, the president of Sri Ramakrishna Math, Chennai, and vice-president of Ramakrishna Mission inaugurated the hall on July 16 evening. Many devotees who had contributed towards the renovation of the hall were also present at the event.
"We decided to renovate, since the roof of the hall had become weak and people attending the discourses faced difficulty as the ventilation was less," says Swami Vimurtananda, while addressing the people gathered at the hall for the inauguration.
Now, this hall located below the main temple has a centralized air conditioner, and the Math has also increased its accommodation by arranging more chairs.
Apart from this, the Math is also renovating two of its other halls – Brahmananda hall, and Yatiswarananda hall. "While the former will be provided for persons affected by leprosy the latter can be used as a study hall by school and college students visiting the Math. Both these halls will be opened soon," he says.
The spiritual discourses are now being held at the renovated Ramakrishnananda hall.