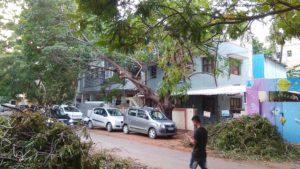 Due to the heavy rain on July 15, several branches of a huge tree at R.K.Nagar 2nd Cross Street have fallen on the road. One has even damaged the name board of Mount Litera World play school.
The Corporation workers have trimmed the branches but still, many logs and cables are dangerously left hanging. This was the scene on this road on July 17 evening.
"The corporation workers of ward 173 trimmed the branches, but they have dumped most of the trimmed tree parts here. They took only the big logs," says a resident of this street. Now heaps of cut tree branches are lying on the sides of this road.
In addition, two other branches of this tree needs pruning. "It looks like they would fall anytime. It is very dangerous for pedestrians and also for school children as there are two schools on this road. Corporation workers should take immediate action to avoid any untoward incident," he says.